We've listened to your feedback from last year and we are going to build upon the success of the Golf Society in 2019. We will be having earlier tee off times in the darker months, smaller groups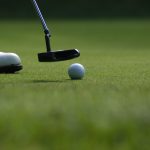 and stricter rules on handicaps! Please put the above dates in your diary so you don't miss out.
In partnership with Lee Pantling of F1 Solutions, a dedicated website will be up and running shortly. The rules will be established, handicaps displayed and best of all a directory of businesses that are in the Golf Society. We are hoping that the dedicated website will incorporate tee off times and who you would like to play with, enabling you to do more business and referrals.
If you would like to be included in the business directory, please send your logo, a paragraph about your business and a profile picture along with contact details to info@ajiblcom.